Books
Here is some information about the books that I have written or edited.
* * *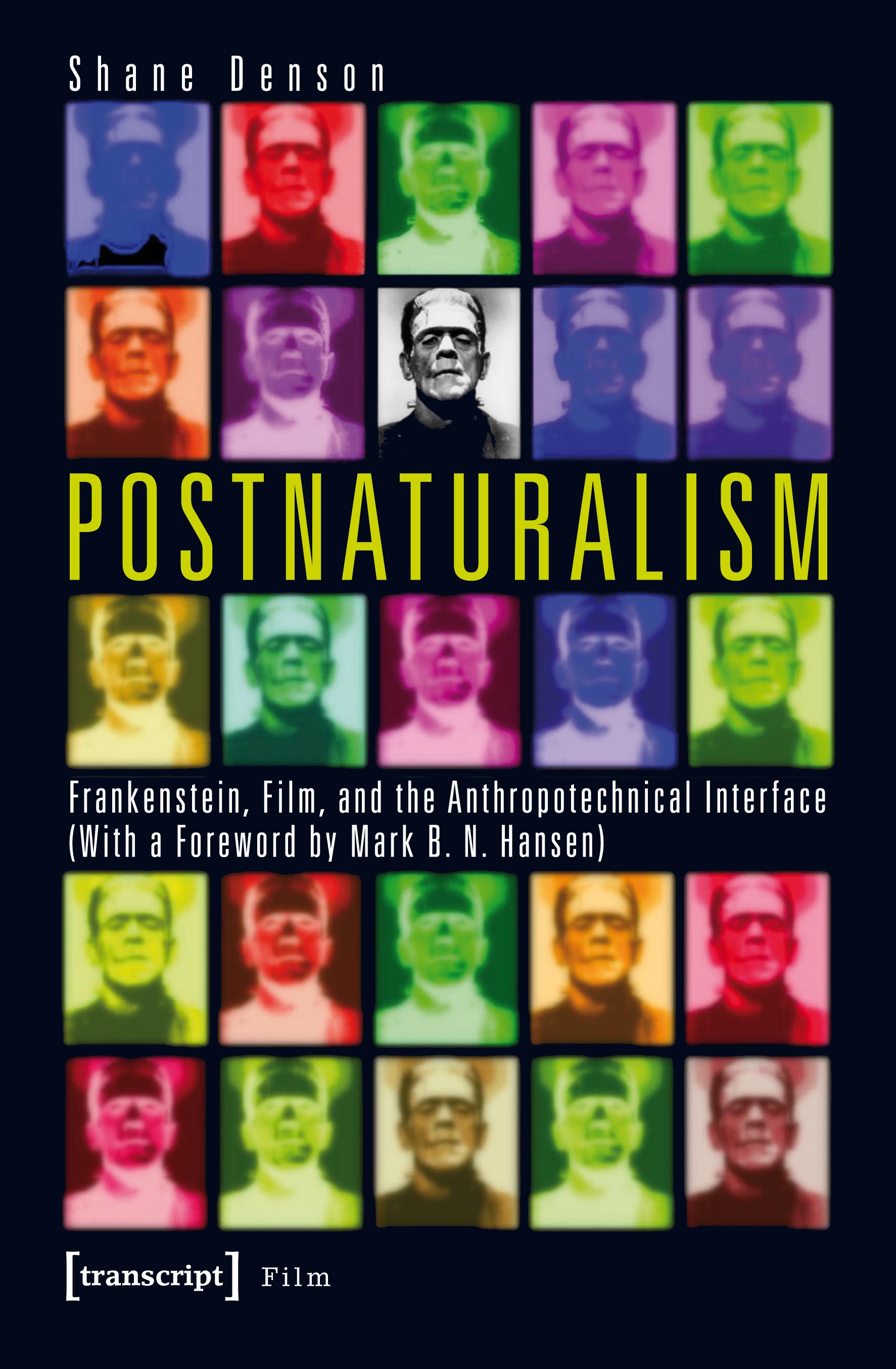 Postnaturalism: Frankenstein, Film, and the Anthropotechnical Interface. Transcript-Verlag/Columbia University Press, 2014.
Postnaturalism offers an original account of human-technological coevolution and argues that film and media theory, particularly, needs to be reevaluated from the perspective of material interfaces in a constantly changing environment. Extrapolating from Frankenstein films and the resonances they establish between a hybrid monster and spectator hooked into the machinery of cinema, Shane Denson engages debates in science studies and the philosophy of technology to rethink histories of cinema, media, and technology and the affective channels of our own embodiment. The book includes a foreword by media theorist Mark B. N. Hansen.
Endorsements:

"Shane Denson's Postnaturalism develops [an] ambitious, wide-ranging, and deeply compelling argument concerning the originary operation of media in a way that sketches out a much-needed alternative to destructive developments which, expanding the darker strains of poststructuralist anti-humanism, have pitted the human against the material in some kind of cosmological endgame. Postnaturalism will provide a very powerful and timely addition to the literature on posthuman, cosmological technogenesis. Perhaps more clearly than any other account, it reconciles the irreducibility of phenomenality and the imperative to move beyond anthropocentrism as we seek to fathom the postnatural techno-material revolutions that have repeatedly remade and that will no doubt continue to remake the environments from which we emerge and to which we belong before we become and as a condition of becoming human subjects." — Mark B. N. Hansen, Duke University

"Postnaturalism offers a philosophical approach and an engagement with fundamental ontological and phenomenological questions of human and nonhuman materiality, which is indispensable especially for a post-postmodernity characterized by resource scarcity, climate change, and species extinctions, as well as the threat of a return to essentialist positions in politics and popular culture. Adapting a phrase from Bruno Latour, Denson counters the latter with a postnatural position: 'We have never been natural' (24). Furthermore, Denson's detailed examination – at the level of content, reception, and production – of Frankenstein adaptations is an asset for the analytical and production-aesthetic [produktionsästhetische] investigation of a central text (or modern myth) and its many adaptations in a wide range of text-critical disciplines: from media studies to literary to cultural studies." — Anya Heise-von der Lippe, Tübingen/Berlin, MEDIENwissenschaft

"Constantly dwelling on the question of historical contingency, media materiality, technology, and (post-)human becoming in a series of interlocking theoretical reflections and analyses, Denson's book is a theoretical and methodological tour de force that conceptualizes film [...] as "Frankensteinian technology" and by way of techno-phenomenological inquiry, decidedly materialist genealogy, and ontological arguments makes a bold case for what he calls "postnaturalism" as both research paradigm and emphatically post-postmodern metaphysics." — Dennis Büscher­-Ulbrich, Kiel, Literatur in Wissenschaft und Unterricht
See the Columbia University Press website for more information, or preview the book online.
* * *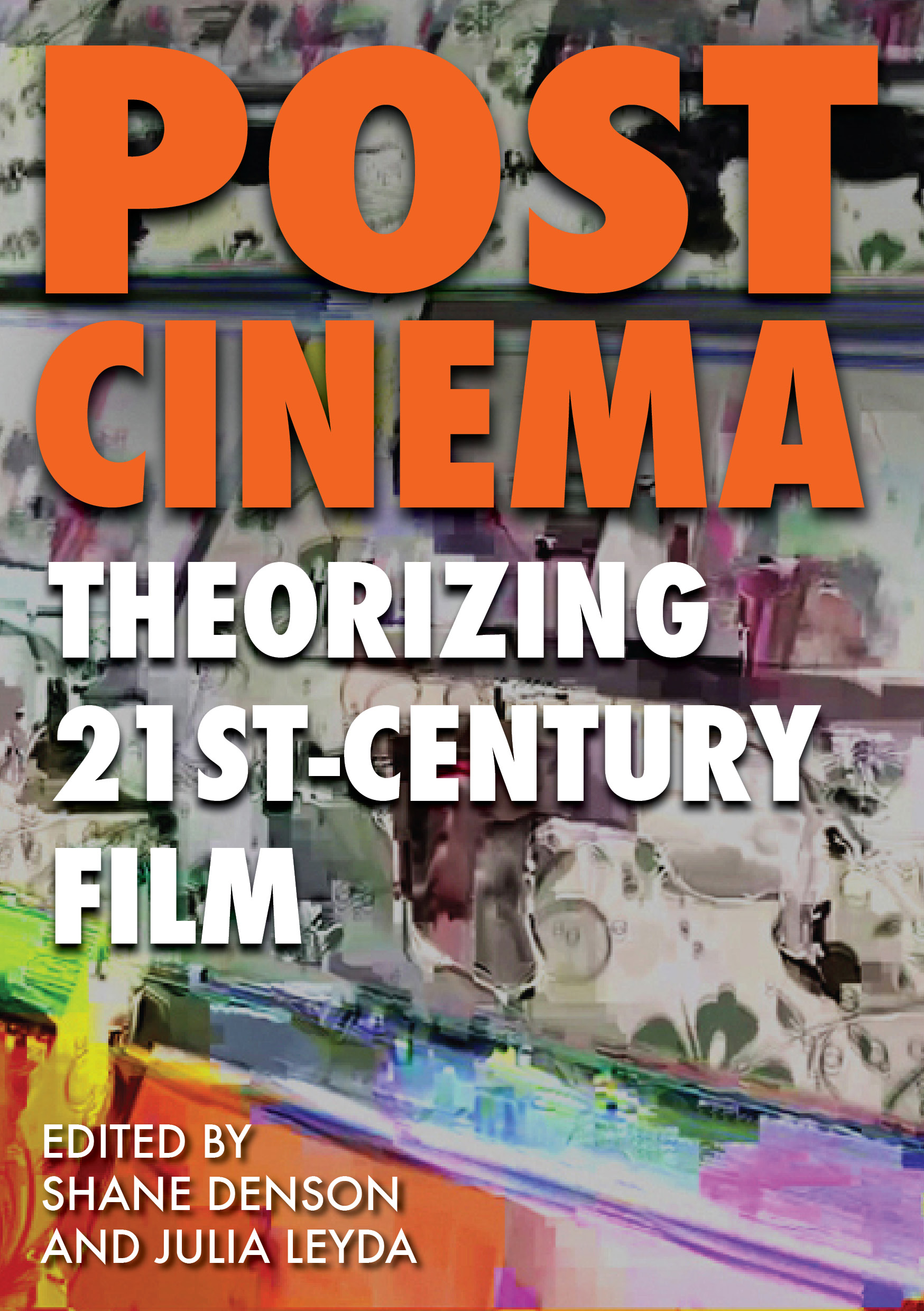 Post-Cinema: Theorizing 21st-Century Film. Edited by Shane Denson and Julia Leyda. REFRAME Books, 2016.
If cinema and television, as the dominant media of the 20th century, shaped and reflected our cultural sensibilities, how do new digital media in the 21st century help to shape and reflect new forms of sensibility? In this open-access collection, editors Shane Denson and Julia Leyda have gathered a range of essays that approach this question by way of a critical engagement with the notion of "post-cinema." The contributions take as their critical starting-points concepts such as David Bordwell's "intensified continuity" or Steven Shaviro's "post-cinematic affect" and "post-continuity." They expand and build upon the ideas of these and a range of other thinkers, with the goal of coming to terms with an apparently new media ecology that requires us to search for a fresh critical vocabulary. By examining the experiential, technological, political, historical, and ecological aspects of the transition from a cinematic to a post-cinematic media regime, the chapters explore key questions in breaking this new ground, seeking and articulating both continuities and disjunctures between film's first and second centuries. Questions of aesthetics and form overlap with investigations of changing technological and industrial practices, contemporary formations of capital, and cultural concerns such as identity and social inequalities. The impact of digitization on taken-for-granted conventions is also in play: intermediality, new forms of distribution both licit and illicit, academic and critical reliance on genres and discrete media formats – all of these come under scrutiny as paradigms shift in the post-cinematic era.
Endorsements:

"An open access book that is on the pulse." — Film Quarterly

"Post-Cinema: Theorizing 21st-Century Film is an intellectually exciting and important book. Editors Shane Denson and Julia Leyda have assembled an extraordinary range of notable contributors with the aim to open up a critical conversation on the very notion of the post-cinematic — something they achieve in a most novel and engaging way. Through essays and roundtable discussions, Post-Cinema formulates fresh and nuanced questions about the consumption and spectatorship of post-millennial film and other media as they circulate through contemporary digital media ecologies. As is fitting given its subject matter of changing media formats, the design and layout of this book — with its open access digitality and its collaborative dialogues — is as relevant and pioneering as its content. Inviting us to rethink received ideas about how 21st-century media reshape "new forms of sensibility," Post-Cinema: Theorizing 21st-Century Film is critically imperative reading for anyone interested in ongoing vital transformations in moving image media." — Tanya Horeck, Reader in Film, Media, and Culture, Anglia Ruskin University

"Taken together, the chapters of the book [...] provide a rigorous and timely set of theoretical frameworks for analyzing post-cinematic works and contexts. At the same time, such frameworks are hardly prescriptive or standardized. Instead, the collection draws out and celebrates the diversity of thought around post-cinema as an on-going conversation." — Matilda Mroz, University of Sussex
The complete book is freely available online at REFRAME Books.
* * *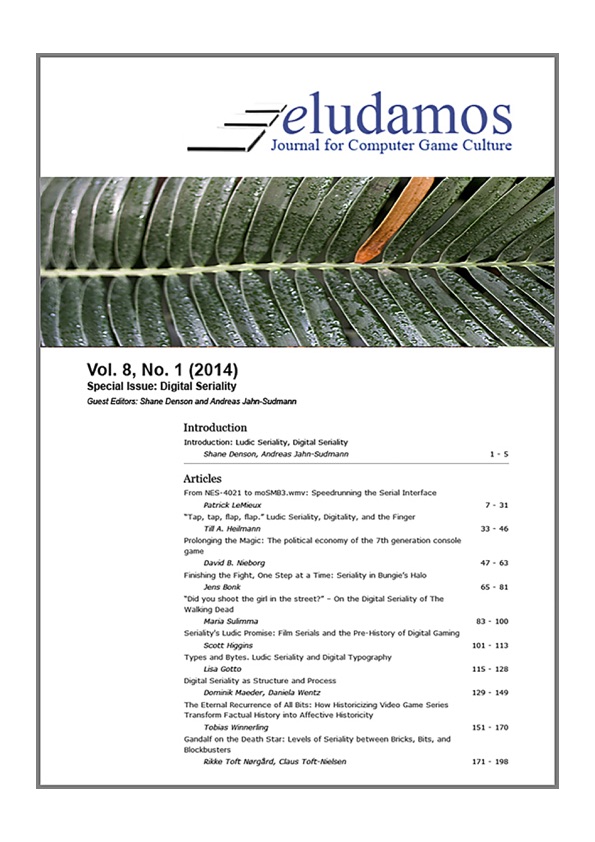 Digital Seriality. Edited by Shane Denson and Andreas Jahn-Sudmann. Special issue of Eludamos: Journal for Computer Game Culture Vol. 8, No. 1 (2014).
Seriality is a central and multifaceted but largely neglected dimension of popular computer and video games. Seriality is a factor not only in explicitly marked game series (with their sequels, prequels, remakes, and other types of continuation), but also within games themselves (e.g. in their formal-structural constitution as an iterative series of levels, worlds, or missions). Serial forms of variation and repetition also appear in the transmedial relations between games and other media (e.g. expansive serializations of narrative worlds across the media of comics, film, television, and games, etc.). Moreover, specifically digital serialities challenge the temporal procedures and developmental logics of the analog era, e.g. because once successively appearing series installments are increasingly available for immediate, repeated, and non-linear forms of consumption. And while this media logic of the database (as Lev Manovich has termed it) can be seen to transform all serial media forms in our current age of digitization and media convergence, a careful study of the interplay between real-time interaction and serialization in digital games sheds light on the larger media-aesthetic questions of the transition to a digital media environment. As this collection bears out, digital games are not only symptoms and expressions of this transition, but also agents in the larger networks through which it has been navigated and negotiated; serial forms, which inherently track the processes of temporal and historical change as they unfold over time, have been central to this media-cultural undertaking.
The collection is freely available online at Eludamos: Journal for Computer Game Culture.
* * *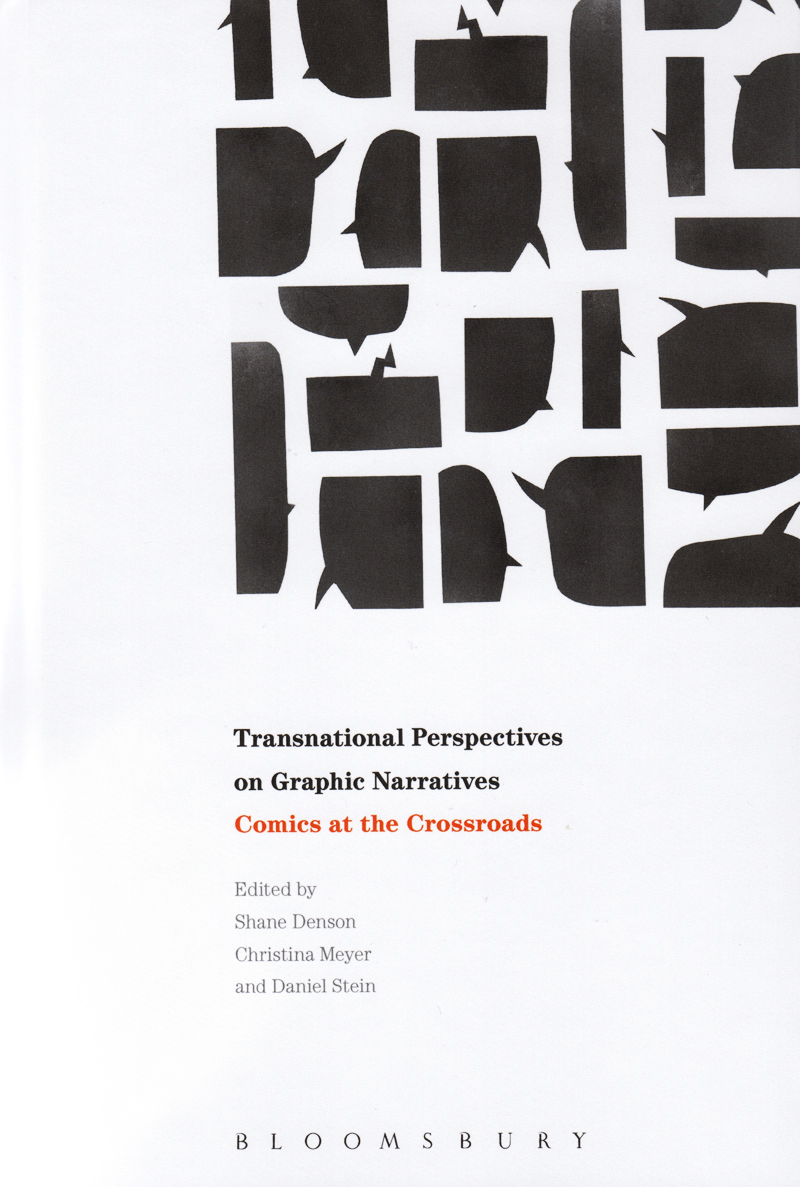 Transnational Perspectives on Graphic Narratives: Comics at the Crossroads. Edited by Shane Denson, Christina Meyer, and Daniel Stein. Bloomsbury, 2013.
This book brings together an international group of scholars who chart and analyze the ways in which comic book history and new forms of graphic narrative have negotiated the aesthetic, social, political, economic, and cultural interactions that reach across national borders in an increasingly interconnected and globalizing world. Exploring the tendencies of graphic narratives – from popular comic book serials and graphic novels to manga – to cross national and cultural boundaries, Transnational Perspectives on Graphic Narratives addresses a previously marginalized area in comics studies. By placing graphic narratives in the global flow of cultural production and reception, the book investigates controversial representations of transnational politics, examines transnational adaptations of superhero characters, and maps many of the translations and transformations that have come to shape contemporary comics culture on a global scale.
Endorsements:

"Transnational Perspectives on Graphic Narratives offers a wealth of concepts and perspectives for the study of the transnational in comics research ... [and] signals the arrival of the 'transnational turn' in comics studies." — Ralf Kauranen, Journal of Graphic Novels and Comics

"This useful and penetrating collection of essays by a suitably international array of scholars seeks, in the words of its editors, to 'chart the ways in which graphic narratives have been shaped by aesthetic, social, political, economic and cultural interactions that reach across national boundaries in an interconnected and globalizing world'. It does that and more, presenting sixteen insightful analyses situating the practice and circulation of graphic narrative within a 'global flow' of cultural processes that privileges hybridity and the porousness of borders ... The contributions, by specialists in English, American studies, media studies and communications, are consistently illuminating and well written ... Transnational Perspectives on Graphic Narratives advances a very welcome interdisciplinary, cross-border perspective to the study of graphic narrative." — José Alaniz, University of Washington, European Comic Art

"Transnational Perspectives on Graphic Narratives is an essential volume for both comics scholars and scholars of literature in general, because it places the most popular emerging medium in conversation with cutting-edge contemporary scholarship, and makes a strong case for the ways in which comics are necessary in considerations of a transnational, cosmopolitan 21st century world." — Kate Polak, ImageTexT
See the Bloomsbury website for more information, or preview the book on Google Books.
* * *