Teaching
My teaching philosophy — which draws on over a decade of undergraduate and graduate-level teaching experience (including film, media, language, and composition courses) — is closely linked to my conception of an emphatically interdisciplinary field of humanistic study at the nexus of film and media studies, digital humanities, and creative applications of computational media. To do justice to this field and, more specifically, to do justice to the pedagogical and cultural transformations that it has witnessed in conjunction with the advent of digital media, requires an approach that combines historical, theoretical, and practical forms of inquiry from a range of disciplinary orientations: cultural theory, the history and philosophy of technology, literary and narrative perspectives, alongside more specialized areas of film history and theory, but also comics studies, game studies, television studies, and media art.
Syllabi for all of my courses are posted on my academia.edu page. Highlighted here are just a few of my recent courses:
* * *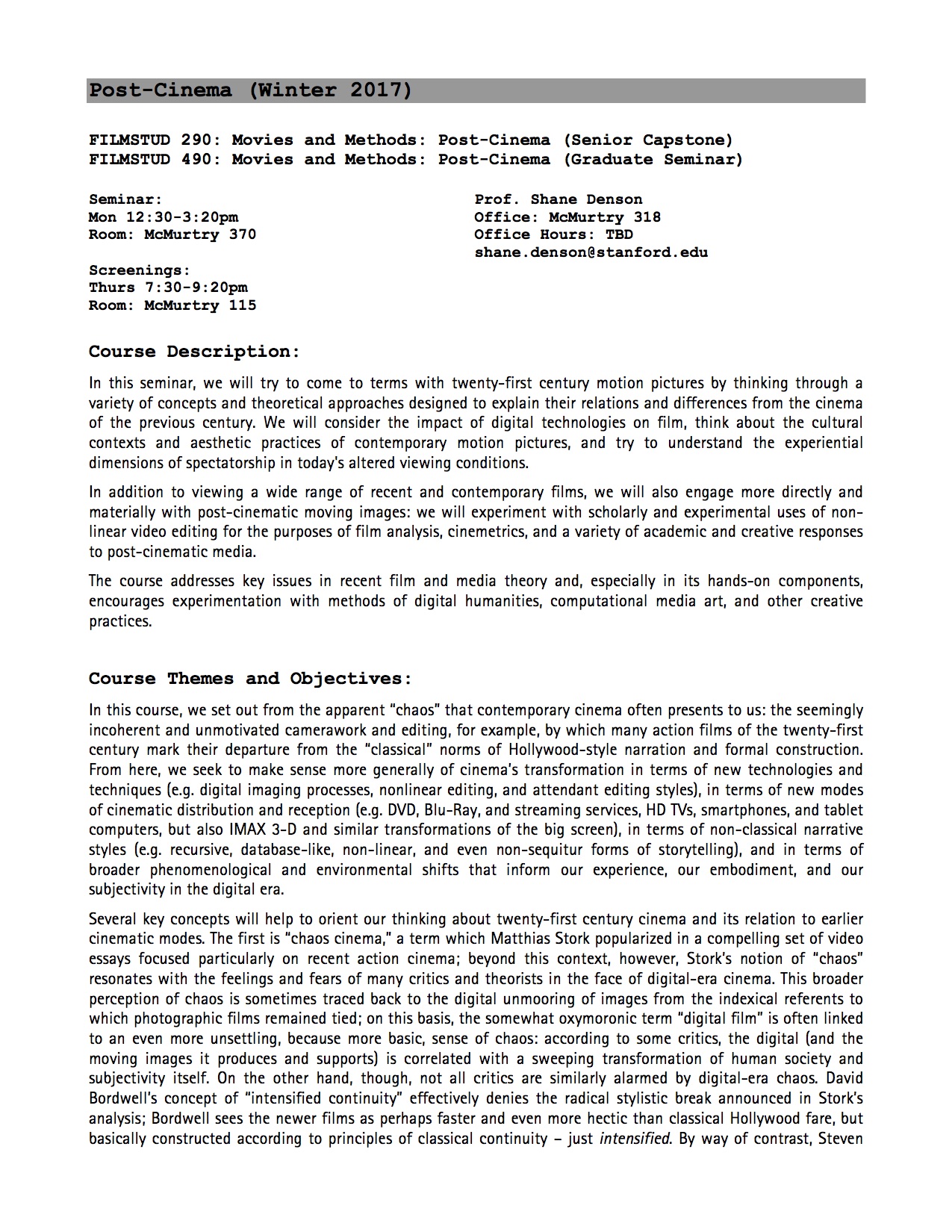 Post-Cinema (Stanford 2017, Duke 2015)
In this seminar, we will try to come to terms with twenty-first century motion pictures by thinking through a variety of concepts and theoretical approaches designed to explain their relations and differences from the cinema of the previous century. We will consider the impact of digital technologies on film, think about the cultural contexts and aesthetic practices of contemporary motion pictures, and try to understand the experiential dimensions of spectatorship in today's altered viewing conditions. In addition to viewing a wide range of recent and contemporary films, we will also engage more directly and materially with post-cinematic moving images: we will experiment with scholarly and experimental uses of non-linear video editing for the purposes of film analysis, cinemetrics, and a variety of academic and creative responses to post-cinematic media. The course addresses key issues in recent film and media theory and, especially in its hands-on components, encourages experimentation with methods of digital humanities, computational media art, and other creative practices.
View the full syllabus here.
* * *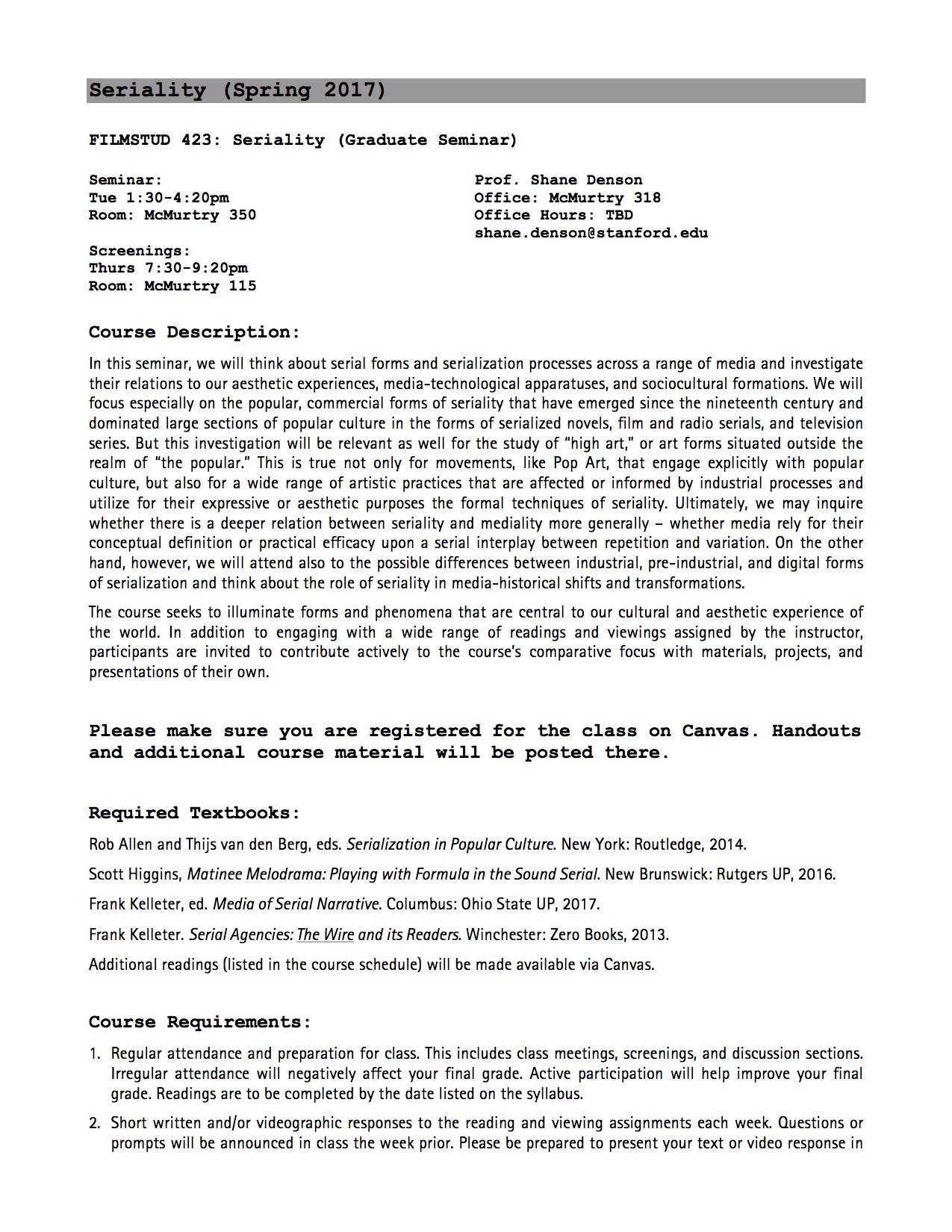 Seriality (Stanford 2017)
In this seminar, we will think about serial forms and serialization processes across a range of media and investigate their relations to our aesthetic experiences, media-technological apparatuses, and sociocultural formations. We will focus especially on the popular, commercial forms of seriality that have emerged since the nineteenth century and dominated large sections of popular culture in the forms of serialized novels, film and radio serials, and television series. But this investigation will be relevant as well for the study of "high art," or art forms situated outside the realm of "the popular." This is true not only for movements, like Pop Art, that engage explicitly with popular culture, but also for a wide range of artistic practices that are affected or informed by industrial processes and utilize for their expressive or aesthetic purposes the formal techniques of seriality. Ultimately, we may inquire whether there is a deeper relation between seriality and mediality more generally — whether media rely for their conceptual definition or practical efficacy upon a serial interplay between repetition and variation. On the other hand, however, we will attend also to the possible differences between industrial, pre-industrial, and digital forms of serialization and think about the role of seriality in media-historical shifts and transformations. The course seeks to illuminate forms and phenomena that are central to our cultural and aesthetic experience of the world. In addition to engaging with a wide range of readings and viewings assigned by the instructor, participants are invited to contribute actively to the course's comparative focus with materials, projects, and presentations of their own.
View the full syllabus here.
* * *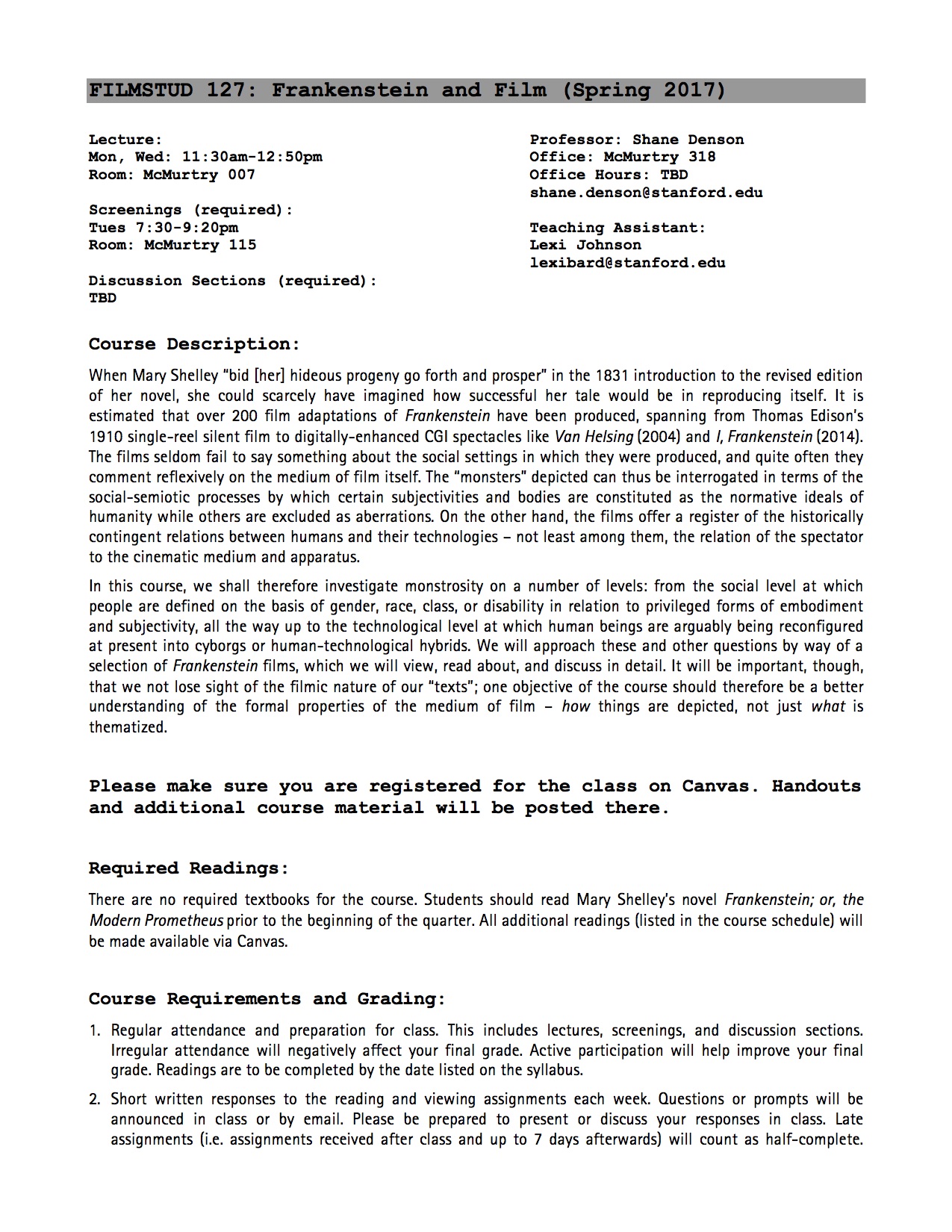 Frankenstein and Film (Stanford 2017)
When Mary Shelley "bid [her] hideous progeny go forth and prosper" in the 1831 introduction to the revised edition of her novel, she could scarcely have imagined how successful her tale would be in reproducing itself. It is estimated that over 200 film adaptations of Frankenstein have been produced, spanning from Thomas Edison's 1910 single-reel silent film to digitally-enhanced CGI spectacles like Van Helsing (2004) and I, Frankenstein (2014). The films seldom fail to say something about the social settings in which they were produced, and quite often they comment reflexively on the medium of film itself. The "monsters" depicted can thus be interrogated in terms of the social-semiotic processes by which certain subjectivities and bodies are constituted as the normative ideals of humanity while others are excluded as aberrations. On the other hand, the films offer a register of the historically contingent relations between humans and their technologies — not least among them, the relation of the spectator to the cinematic medium and apparatus. In this course, we shall therefore investigate monstrosity on a number of levels: from the social level at which people are defined on the basis of gender, race, class, or disability in relation to privileged forms of embodiment and subjectivity, all the way up to the technological level at which human beings are arguably being reconfigured at present into cyborgs or human-technological hybrids. We will approach these and other questions by way of a selection of Frankenstein films, which we will view, read about, and discuss in detail. It will be important, though, that we not lose sight of the filmic nature of our "texts"; one objective of the course should therefore be a better understanding of the formal properties of the medium of film — how things are depicted, not just what is thematized.
View the full syllabus here.
* * *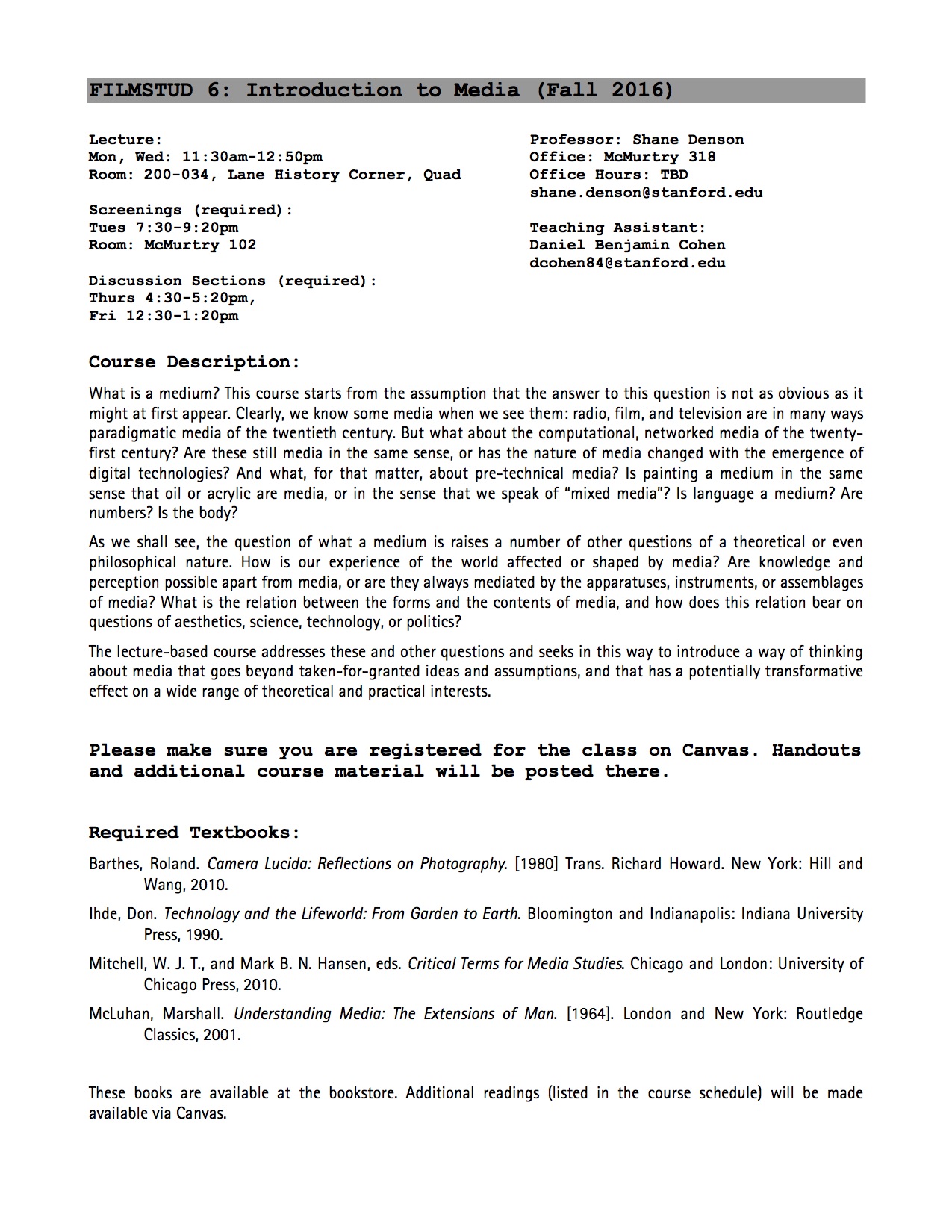 Introduction to Media (Stanford 2016)
What is a medium? This course starts from the assumption that the answer to this question is not as obvious as it might at first appear. Clearly, we know some media when we see them: radio, film, and television are in many ways paradigmatic media of the twentieth century. But what about the computational, networked media of the twenty-first century? Are these still media in the same sense, or has the nature of media changed with the emergence of digital technologies? And what, for that matter, about pre-technical media? Is painting a medium in the same sense that oil or acrylic are media, or in the sense that we speak of "mixed media"? Is language a medium? Are numbers? Is the body? As we shall see, the question of what a medium is raises a number of other questions of a theoretical or even philosophical nature. How is our experience of the world affected or shaped by media? Are knowledge and perception possible apart from media, or are they always mediated by the apparatuses, instruments, or assemblages of media? What is the relation between the forms and the contents of media, and how does this relation bear on questions of aesthetics, science, technology, or politics? The course addresses these and other questions and seeks in this way to introduce a way of thinking about media that goes beyond taken-for-granted ideas and assumptions, and that has a potentially transformative effect on a wide range of theoretical and practical interests.
View the full syllabus here.
* * *