Videographic Scholarship
Selected video essays, videographic research, video-based scholarship.
* * *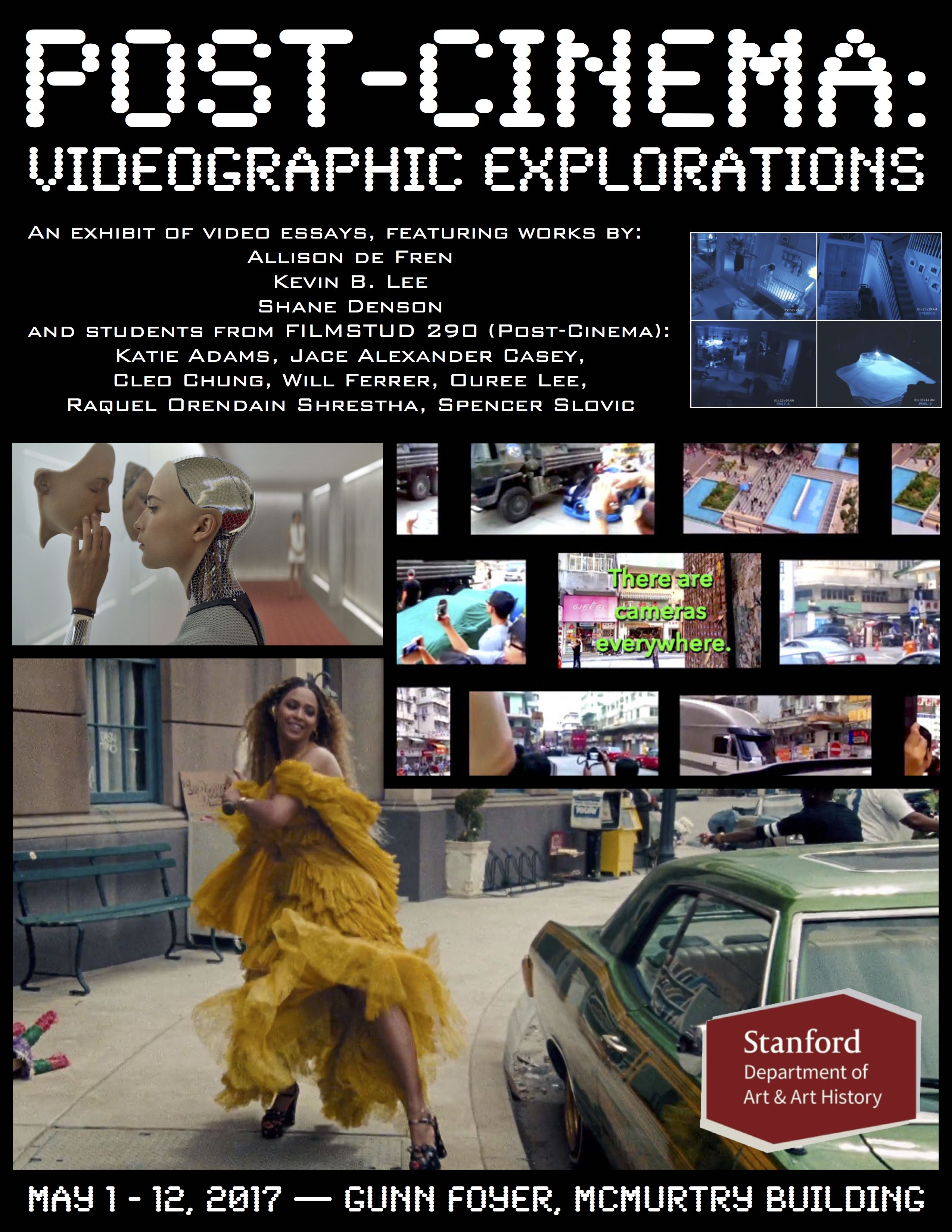 Post-Cinema: Videographic Explorations is an exhibition of video essays on a variety of contemporary media forms and phenomena – including digital animation, Beyoncé's Lemonade and the visual album, contemporary horror, slow cinema, post-cinematic television and transmedia franchises, among others. The exhibition, which includes works by leading filmmaker-scholars as well as students from Shane Denson's seminar on "Post-Cinema" (Film Studies 290, Winter 2017), was on display May 1 - 12, 2017 in the McMurtry Building on the campus of Stanford University. Featured here is a selection of the works shown there.
* * *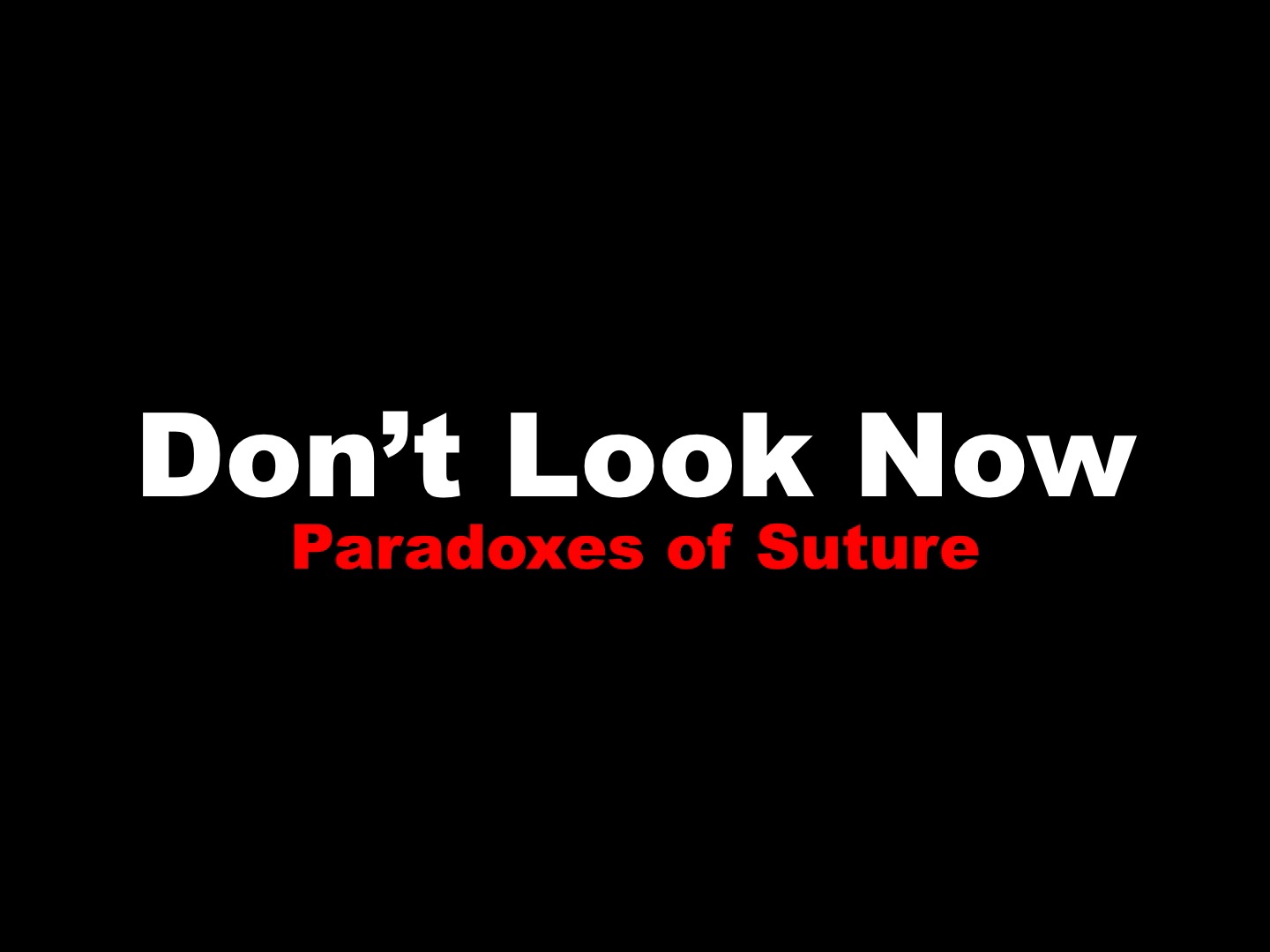 "Don't Look Now: Paradoxes of Suture" is an interactive video essay that explores suture, space, and vision in Nicolas Roeg's Don't Look Now (1973), concentrating on one key scene in the film – an important turning point that problematizes both the characters' and the spectator's perspectives vis-à-vis narrative events. Formally, the video essay also experiments with "close" (or focused) and "distant" (or scanning, scattered) modes of viewing, allowing the viewer to alternate between paying close attention to intra-shot details and assuming a "meta-" perspective from which several or all of the scene's shots can be surveyed at once. "Experiment" is the key word here, describing as it does every facet of this piece. From its production to its presentation and finally the perceptual modes it offers to viewers, "Don't Look Now: Paradoxes of Suture" is designed as an experiment in a strong sense, one which questions the very form and function of the video essay. (Click here or on the image above to view the piece.)
* * *
The video essay "Sight and Sound Conspire: Monstrous Audio-Vision in James Whale's Frankenstein (1933)" offers a meditation, in three acts, on the relations between the visual and the auditory in James Whale's classic horror film. Introducing the iconic image of the creature (played by Boris Karloff, realized by makeup artist Jack Pierce, and long defended as a visual trademark by Universal Studios), Whale's film drew its power to frighten audiences from the particular relations that images and sounds had with respect to one another in the early years of sound cinema. The video essay was published in [in]Transition: Journal of Videographic Film & Media Studies 2.4 (2016). (Click here for the original publication, where the video is accompanied by a written essay, along with responses from Drew Morton and Steven Shaviro.)
* * *
In many ways, the medium of video marks the displacement of cinema as the culturally dominant moving-image medium. Especially in widely available consumer formats like VHS, video can be seen as having ushered in the era of post-cinema by installing something like (but also quite different from) cinema into people's homes. Most conceptions of post-cinema, including Steven Shaviro's important study of "post-cinematic affect," tend to emphasize the role of digital media – and it is indeed in the context of the massive proliferation of computational devices and digital video platforms that the idea of the post-cinematic becomes most salient as a genuine alternative to the media regime of "cinema." However, we should also attend to the transition to this post-cinematic situation, as well as to the ways that this transition (which even today is hardly complete, final, or determinate) is reflected in post-cinematic moving-image media. One approach, adopted here, might take off from the faux found-footage video that structures a film like Paranormal Activity 3. (Click here for the original publication, with textual accompaniment and discussion, in in media res.)
* * *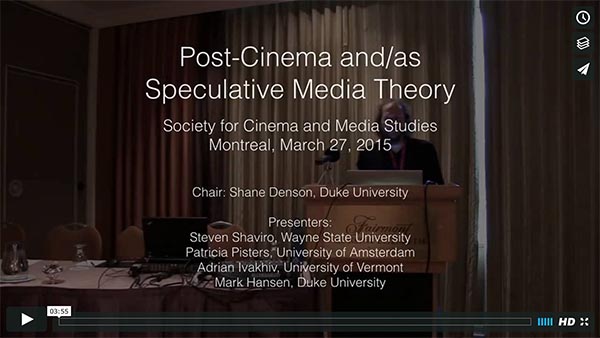 On March 27, 2015, at the annual conference of the Society for Cinema and Media Studies in Montreal, Steven Shaviro, Patricia Pisters, Adrian Ivakhiv, and Mark B. N. Hansen participated in a panel I chaired on "Post-Cinema and/as Speculative Media Theory." It was standing room only, and many people were unable to squeeze into the room (a few images are posted here). Thankfully, all of the presenters agreed to have their talks recorded on video and archived online. (Click here or on the image above to view the videos.)
* * *
See also my vimeo page for more videographic work.